Why committee work is so important for you and your business
Being part of an industry comes with different roles and responsibilities to fulfill. Some stakeholders are operators who produce goods or products. Others are suppliers and service providers that get the parts, materials, and solutions demanded by the manufacturing and supply chain processes. There are also distributors and retailers who position the merchandise in the market. The final link in this chain is e.g. the operator. They buy the products, put them to use, and keep this ecosystem running.
If you step back to look at the big picture, this chain might seem to have a stable structure. But let me assure you that this is not the case. One vital part is missing—a puzzle piece that endlessly contributes to the success of the industry.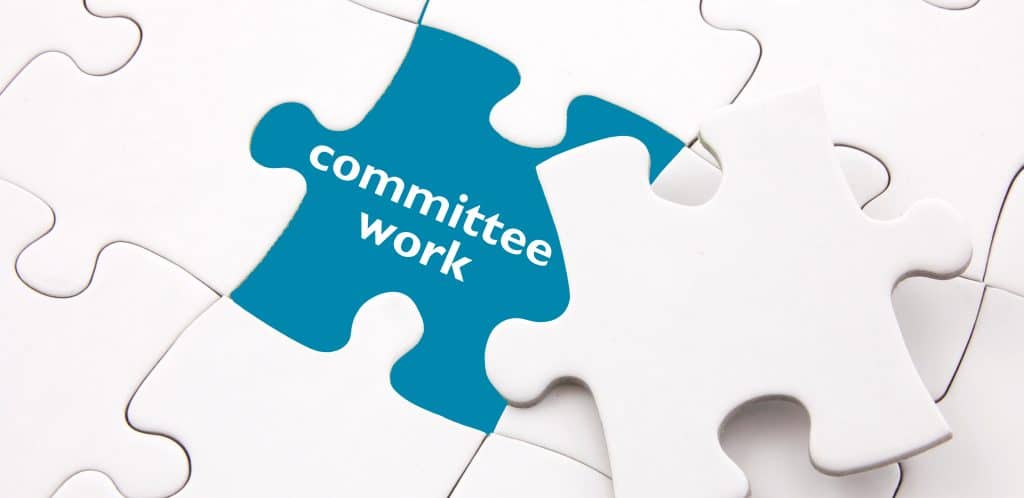 I'm talking about the organizations that connect the dots and challenge the status quo to improve quality, reliability, and safety. Entities that draw attention to issues impacting the process industry and the oil and gas sector. Subjects of great interest like the TA-Luft amendment or the ongoing digitalization trend spreading around operational and business areas today.
As you can probably tell by now, I'm referring to committees. They are working groups where specialists from various backgrounds meet to address issues that champion industry growth, resilience, and sustainability with a specific end in mind: Solve acute industry problems by combining forces to measure and channel different views and skills toward common goals.
How committee work brings us together to find solutions and develop new initiatives
Are you a plant engineer, service provider, or product supplier? Then, it's likely that committee work has already had an impact on your day-to-day.
A recent example is the TA-Luft working group, which set the basis for complying with 2021's edition. Therefore, plant operators, valve manufacturers, and testing specialists met regularly to draft guidelines for the updates.
Also the new TA-Luft had a lack of specificity on some topics. I want to draw specific attention to a peaking area of interest for the chemical industry. The note in Chapter 5.2.6.4. on compliance tests in shut-off or control elements such as valves:
"In order to ensure permanent tightness, requirements for testing and maintenance of the tightness systems must be ensured in management instructions."
Such a statement instructed a tremendous effort on their side. Maintenance on every valve was mandatory. A significant expenditure in terms of cost, time, and man hours was unavoidable.
By engaging in committee work, the chemical industry promoted new clarifications in the . Their purpose was ever so clear. Define the conditions under which certain valves would remain maintenance-free.
Valve experts from the industry inside the TA-Luft working group looked at the proposal. Later, a reviewed and developed scope made it into the final guideline, worded as follows:
"The strength classes CO3 for shut-off valves and CC3 for control valves should be aimed for. By achieving CO3 without shaft or shaft adjustment, it can be assumed that manually operated valves are maintenance-free, unless otherwise specified by the valve manufacturer. If the strength classes CO3 are not fulfilled, the valve manufacturer must prepare a maintenance concept."
Without the committee's involvement, I'm sure that a joint and favorable consensus between parts would not have been reached. And operators would still be doing maintenance in manually operated valves that don't need it.
Digitalization working group
Another on-brand example of committee work is happening in digitalization. Since it is an emerging field, new issues pop up almost daily. All companies struggle to keep up, especially midsize ones. 
Expert groups are making a diligent effort to focalize the targets to be met and ease the journey. The German Engineering Federation (VDMA), the Digital Data Chain Consortium, and the Open Industry 4.0 Alliance are among them. 
They can take credit for many advances, including: 
Before various organizations such as the VDMA, DDCC or even the Open Industry 4 Alliance took action, approaching digitization was a chaotic affair. Everyone followed their own protocol to sort digital data or digitize assets. Some did it assertively. Others, not so much.
Now, we have two helpful deliverables to carry out such important tasks:
The standard VDI 2770 is needed for data standardization in the exchange of digital documentation. And the standard IEC 61406 is required for the unique identification of mechanical components in industrial plants. Both are especially relevant for the chemical industry.
How did the guidelines VDI 2770 and IEC 61406 come to be? 
Thanks to the committee members' work. Yes! Manufacturers, plant operators, service providers, technology developers, and academics like yourself made it happen. 
They raised proposals and, at present moment, are overseeing implementation, monitoring results, and communicating possible issues to find solutions. 
Committee members have a great deal of responsibility. They sit equally at the table and allow the working group to become a neutral zone for their expertise and knowledge to shine. Thus, they forge real solutions that spark improvements in the value chain.
They gain other benefits, too. 
For instance, knowing what's to come industry-wise. Such sensitive information allows them to lead changes that can put their companies in a privileged position. 
Just to give you an idea, BASF announced:
As of fall 2023, BASF will only approve suppliers that comply with VDI 2770.
Only committee insiders will know how to adapt to this condition faster than Usain Bolt runs in a 400-meter track field. In contrast, uninvolved actors have no choice but to wait, follow up, and then comply. It is a longer path to transit in a competitive arena.
These two ongoing examples show how committee work binds industry insiders. By working closely, experts of different natures in the chain get to:
Need more reasons to get behind your industry's committee work?
Benefits of working with a supplier involved in committee work
Quality, fair prices, reliability, and on-the-spot delivery times. That's what operators and plant builders want from their suppliers to keep the plant running smoothly. What if I told you that, if you are in their shoes, you can and should ask for more?
An overlooked factor that can make a significant difference in your partnership with a supplier is their involvement in industry committee work.
Here are six major reasons why:
1. Enhanced industry knowledge:
Suppliers that do committee work have a deeper understanding of the market, trends, and the latest technologies and innovations. Thus, they can help you boost business operations through informed insights into the industry.
2. Solid relationships with regulatory agencies:
The suppliers inside working groups build established relationships with regulatory agencies. This is such an important issue for two main reasons. 1) Your suppliers are likely to be compliant with the latest regulations, which by default helps you avoid fines and penalties. 2) They can give you a heads-up about upcoming changes to regulations that may affect your business.
3. Networking opportunities:
We live in an era where networking is essential to running a business. So, counting on suppliers with valuable connections pays off for your business too. Let's say you want to work with a company that you haven't been able to reach. Your supplier can save the day by facilitating their contacts for you. Moving on, you can make the partnership feasible.
4. Setting industry standards and guidelines:
Committees are responsible for creating standards that help ensure that products and services are safe, reliable, and of high quality. By doing that, they also set a level playing field for companies that promote fair competition.
Suppliers that prioritize committee work bring their expertise to the field they love and have mastered. Because of that, they get to impact, in a positive way, new trends along with the standards and protocols that set them in motion.
6. Test latest developments:
In a committee work, a supplier's contribution also extends to the successful implementation of the latest standards. Such involvement sets them at the forefront of the innovation process. This direct participation allows them to try, test, and see if the original intent corresponds to reality. Based on actual results, they send feedback.
As part of AS-Schneider, a manufacturing company that's invested in committee work, I assure you that clients do in fact rip off these benefits. So much so that their astounding response encourages us to continue forward.
Committee work is the silent backbone of the process industry. The suiting gateway to advocating for goals and promoting policies and regulations that add value to society.
The Open Industry 4.0 Alliance and, the Digital Data Chain Consortium, which promoted committee work on the hot topic of digitalization, are proof of that. The same can be said about TA-Luft's working group.
Collaboration and teamwork among stakeholders in the value chain are hallmarks of committee work. Each member brings their skills, experiences, and perspectives to the discussion. The diversity of thought encourages more creative and innovative solutions to challenges. Finding common agreements and specific actions for successful implementation is a tangible possibility. 
Finally, when looking for new partners, don't forget to ask if they do committee work. The dynamic will prove resourceful for you in terms of networking, quality, and safety.
And if one of those partners you need happens to be a valve manufacturer, AS-Schneider is here for you.
Until next time.