Identification of devices with unique IDs - IEC 61406/DIN SPEC 91406 and VDI 2770
This article aims to provide an overview of one of the latest trends in the process industry. The digital administration of product information!
In case you didn't know about it, products in the process industry usually come with lots of technical documents. No matter how simple the product or project scope is, hundreds of paper pages are in demand to take it on. Especially since the deliverables involved include: Drawings, material certificates, factory testing documents, and maintenance and installation manuals.
As our world becomes more digitally forward, switching to a more sustainable and effective medium than paper takes priority. A concern that was shared by our customers through various conversations. So, how to leap into a digital document/product control cycle?
My work at AS-Schneider, where I currently work on the Product Portfolio Digitalization, made me research the most convenient ways to provide the documents to our customers. My findings showed that standards IEC 61406/DIN SPEC 91406 and VDI 2770 are well suited for the cause. And both are crucial for the identification of devices with unique IDs. Want to know why? Continue reading below.
Approach the digital administration of documentation and product information
As mentioned earlier, I found two standards that helped me advance on my tasks. They were crucial for recording the digital documentation related to product information. To detail how they allowed me to do it, I'm presenting you with an overview of standards IEC 61406 (DIN SPEC 91406) and VDI 2770.
DIN SPEC 91406 is the resulting standard prepared by a committee of process industry heavyweights. BASF, Covestro, Bayer, Lanxess, Siemens, Endress + Hauser, Yokogawa, Emerson, and ABB are part of the group.
Representatives from these companies saw the need to standardize the automatic identification of technical components. So, they took matters into their own hands. In turn, a structure of unique product IDs that can be encrypted in QR-Codes and RFID tags came together.
Due to the rising relevance of digitization, DIN SPEC 91406 was replaced by the international IEC standard 61406 in October 2022.
The International Electrotechnical Commission (IEC) is a recognized international norming organization. Its appointment to review DIN SPEC 91406 was aimed to add more relevance to the norm itself as the technology gains more demand from users. 
In the process, each article must be assigned a unique serial number. This unique number (ID) has encryption in the QR-Codes or RFID tags that enable the identification of the pieces without any misconception.
Standard VDI 2770 offers a different perspective on the digital documentation of product information. One that is more focused on the "minimum requirements for digital manufacturer information for the process industry." Through it, you can find nifty guidelines on:
The core idea is to use the PDF format for human-readable documents and the XML format for machine-readable documents.
See in the description below how VDI 2770 classifies manufacturer information. Their method asks you to make a recount by group, category, and document. When describing the product or document, you will touch the ground on essential features, like the technical characteristics and activities associated (operational or administrative).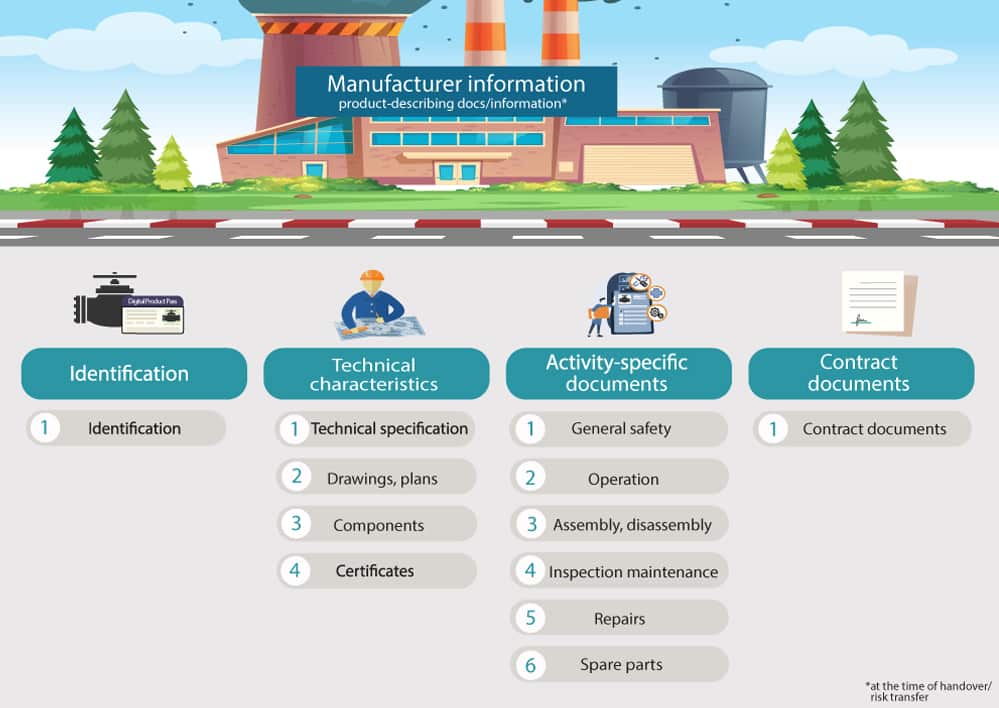 Note: Classification of manufacturer information as per VDI 2770.
How IEC 61406 (DIN SPEC 91406) helped me digitize a service?
There is no better way to demonstrate how these codes can shape a digitization project than through an application example. So, I'm sharing one of our own experiences at AS-Schneider.
In 2019, we followed standard DIN SPEC 91406 to introduce a Digital Valve Plate (formerly known as Digital Product Pass) into a static digital twin service. The code's application led us to manage a high-volume product group with practicality and functionality.
The following diagram shows the various components of our DVP solution.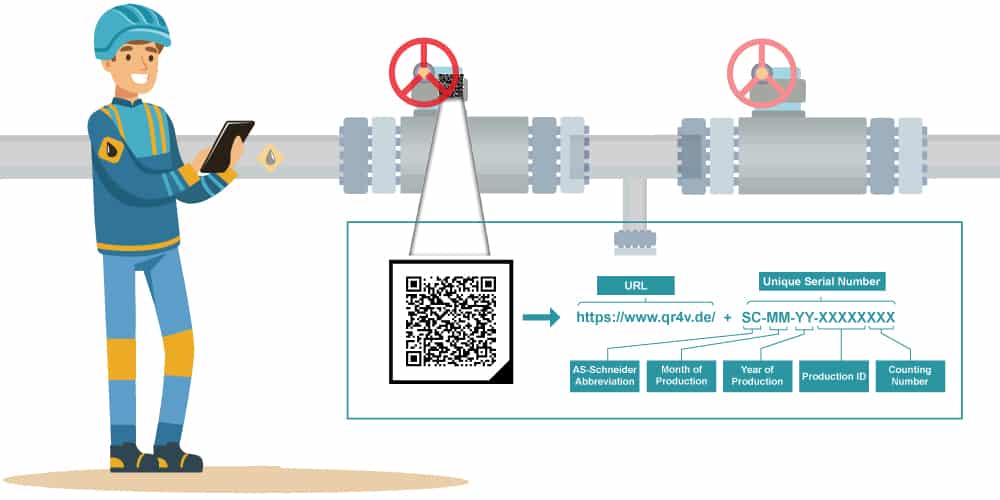 Note: Code structure created by AS-Schneider for a service using IEC 61406 (DIN SPEC 91406).
In it, you can see the structure of the serial numbers, which acted as a DVP basis.
The system ensured full QR-code encryption.
Beyond this example, I would like to highlight that there are free services you can take advantage of. Some even allow you to identify valves automatically. If this subject interests you, check out my AS-Schneider's peer, Thomas Weisschuh's article:
Why standardized metadata benefits the process?
Have you heard about FAIR data?
It is a term that means your data is more Findable, Accessible, Interoperable, and Re-usable (FAIR). Metadata does that for you!
So, what happens when metadata is standardized at the industrial level?
Great things, for sure!
Suppliers can "FAIR proof" the transfer of the product-related data to the customer under a common ground. Such an initiative enables a more efficient process that leaves both parties satisfied with the results.
Standardized metadata leaves legacy data transfer processes behind. We all suffer from them. And know they are tedious and can be error-prone. Overcoming these issues was a driving force for the materialization of these kinds of codes. For that reason, companies like Siemens, BASF, Covestro, SAP, and Endress + Hauser joined the VDI Commission to contribute to their development.
Finding the best data transfer program is a priority to look after
Besides following IEC 61406 (DIN SPEC 91406) and VDI 2770, manufacturers have to add another priority:
Ensuring that the described product data exchange process with customers goes seamlessly. To do that, it is better to rely on an expert partner.
Some of the relevant technologies as of now include:
For more details, checking with the Digital Data Chain Consortium (DDCC) can be a good idea. They are an industry committee initiated by BASF and other field leaders. Their range of expertise includes cloud-based platforms for exchanges between suppliers and customers.
As I see it, data exchange tech will play an important role in the future. The sharing of product data with customers and other stakeholders will be in high demand for the process industry.
Relevance of IEC 61406 (DIN SPEC 91406) and VDI 2770 in industry 4.0 asset administration shells
Standards IEC 61406 (DIN SPEC 91406) and VDI 2770 play a vital role in the Asset Administration Shells of Industry 4.0. By principle, they bring together, in one place, all the product-related information!
How do they work within the Administration Shell?
There's categorization by sub-models:
There are other sub-models. But, we are not addressing them at this time because they are more relevant to the product's lifecycle. And this piece is only focusing on the standardization of article identification and manufacturer documentation. Yet, it'll be exciting to analyze them at a later stage.
With everything already mentioned and seeing the latest tendencies, I expect the Asset Administration Shell in Industry 4.0 to become very relevant for the process industry in the future. Specially to enhance sustainability and environmental protection efforts.
Thank you for your time! I want to leave you with some final thoughts for your consideration:
Until the next time! Cheers.