How to isolate a process line from process instrument with a DBB valve
Block and Bleed and Double Block & Bleed isolation systems are used in process instrumentation to isolate your instrument from the main process line.
The isolation valve(s) stop the flow from the upstream, while the bleed valve removes any pressure or residual product that remains in the downstream section or in the section between the two valves.
Use of block and bleed valves is mandatory in many industrial processes for isolating the measuring instrument from the process line. This allows maintenance work to be performed on the instrumentation without the need to shut down the entire operation.
There are two approaches to the installation of a block and bleed or a double block and bleed setup. I explain both in more detail in this article. 
The conventional system connects multiple valves and fittings together to create the block and bleed setup. The figure below shows a conventional, flanged, double block and bleed isolation setup that connects a process line to a pressure transmitter/gauge.

Such installations are common in many industries including oil refineries.
The double block and bleed isolation, for the pressure transmitter/gauge, is achieved by using three separate valves between the transmitter and the process line.
The pressure transmitter is connected to an instrument manifold which is connected to an isolation valve followed in series by another isolation valve to provide Block X Block operation.
A third valve, between the two block valves, provides the bleed functionality.
As the image above shows, a conventional system produces a very large and bulky setup which takes a lot of time to install, has a large number of potential leak points, and is relatively expensive to install and maintain.
Close-coupled installation
Close-coupled installation brings the instrument (transmitter/gauge) closer to the process by replacing multiple valves and fittings with an integrated instrument mounting product. It creates a direct, minimal link between the process and instrument which helps save installation time and cost in addition to reducing the number of potential leak paths.
Choosing a suitable close-coupled installation requires consideration of the application and the process conditions.
Process-to-instrument system
An important part of the close-coupled installation is the process-to-instrument system. It has been designed to replace bulky, multi-component conventional setups, widely used for connecting instruments to process lines.
There are two industry standards for an integrated process to instrument product that integrate block, double block, or double block and bleed valve functionality in a monoblock design:
Monoflanges use ball valves on the isolation valve(s) and can either use a ball valve or a needle valve for the vent valve. At AS-Schneider this design is called VariAS-Block while the industry also often names it "DBB Ball Valve".
Slimline Monoflanges use needle valves on the isolation valve(s) and the vent valve. At AS-Schneider we just use the expression Monoflange.
Benefits of using a process-to-instrument system
General benefits of using a process-to-instrument system in place of a conventional installation include:
Reduced installation costs
Reduced costs of ownership
Reduction of maintenance and downtown
Reduction of risk of fugitive emissions
When to use Monoflanges and Slimline Monoflanges
Both Monoflange and Slimline Monoflange are available in block, block & bleed, and double block & bleed configurations. They offer the same functionality as the conventional system, in a compact, closed-coupled design that flanges directly to the process line. The figure below compares the Monoflange and Slimline Monoflange alternatives to a conventional, multiple-valve system.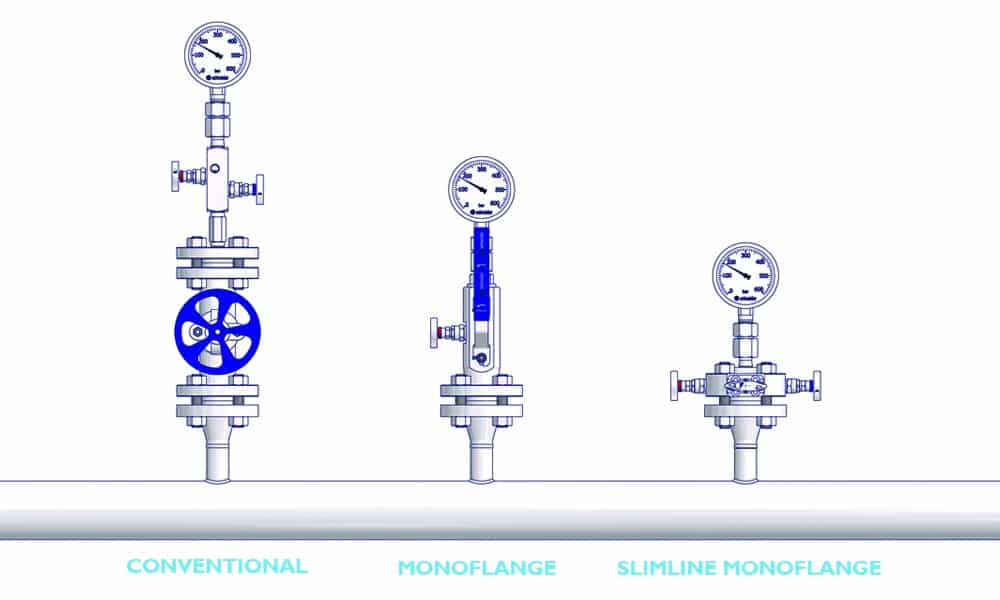 Depending on the application, a Monoflange or a Slimline Monoflange valve may be more suitable for a given process. Some key considerations for choosing between Monoflanges or Slimline Monoflanges are discussed below:
Primary isolation valve requirements
The primary isolation valve is defined as the first isolation valve coming off the process line, and is sometimes restricted to a certain style of valve based on site specifications. If a facility wants to use the Monoflange or Slimline Monoflange as the primary isolation valve, they should check whether a ball valve or needle valve is allowed as the primary isolation valve. If the Slimline Monoflange/Monoflange is being placed downstream from the primary isolation valve, than typically both are accepted. 
Slimline Monoflanges are the most compact valves for connecting a process to gauges or transmitters due to the use of needle valves. While Monoflanges also offer very significant reduction in size and weight over a conventional setup, Slimline Monoflanges should be chosen if minimizing size and weight is the key consideration. The figure below compares the size and weight of a typical conventional installation with corresponding Monoflange and Slimline Monoflange installations.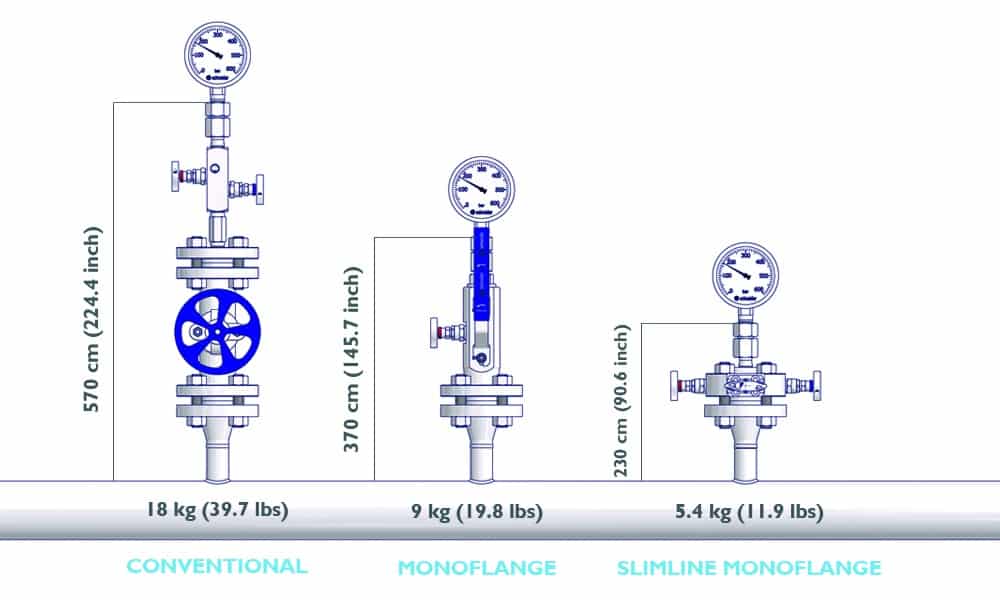 Due to the general design of needle valves and ball valves, needle valves can tolerate a higher maximum temperature. Slimline Monoflanges use needle valves, and therefore have a higher temperature rating than Monoflanges. Slimline Monoflanges can be used at temperature of up to 550°C (1,022°F) while Monoflanges have a max temperature rating of 232°C (447°F). Special designs can also exceed that limit.
While Monoflanges offer significant cost savings in terms of both equipment and maintenance costs over conventional installations, Slimline Monoflanges are the most cost-effective solution. The smaller size of Slimline Monoflanges requires less material for manufacturing which leads to cost savings for the end user.
Monoflanges are offered in bore sizes of 10mm/14mm/20mm, compared to Slimline Monoflanges which are available in sizes of 5mm/10mm. A larger bore size gives a higher flow coefficient and reduces the chances of clogging.
The flow path in a Monoflange is straight from the inlet to the outlet. When dealing with a viscous or clogging process, Monoflanges should be preferred due to their roddable design. A rod can be used to clean the valve from the inlet to the outlet. Slimline Monoflanges are typically used in clean service.
Sampling/injection requirements
Monoflanges are usually available with an integrated injection/sampling quill. This feature allows users to directly inject/sample the medium from the process line. Processes with sampling or injection requirements should therefore be fitted with suitable Monoflanges.
Summary of key features of Monoflanges and Slimline Monoflanges
The tables below summarize the key features of Monoflanges and Slimline Monoflanges that should be considered when selecting the most suitable valve for a given application.
Features

Slimline Monoflanges

Monoflanges

Reduced size & weight

Reduced leak paths

Roddable

Rapid shut-off

Block valve type

Needle

Ball

Bleed valve type

Needle

Needle / Ball

Temperature rating

550°C (1,022°F)

232°C (447°F)

Bore sizes

5 mm / 10 mm

10 mm / 14 mm /
20 mm
| Designs | Slimline Monoflanges | Monoflanges |
| --- | --- | --- |
| Block | | |
| Block & Bleed | | |
| Double Block & Bleed | | |
| Injection / Sampling Option | | |
Infographic:
Slimeline Monoflange
versus
Monoflanges
Infographic provides you an overview when to use Slimeline Monoflanges and when to use Monoflanges.