Close-coupled installation vs. conventional installation
In times of budget cuts and lack of skilled workers, it is all the more important to use the right product solutions in your plant. In my current article I would like to explain the advantages of a close-coupled installation in the area of one of our products, "monoflanges". That can have a very positive effect on your maintenance and operating work.
Conventional installation
In any process, all pressure measuring systems are connected using the standard installation.
This standard installation is an interface of instrument (Transmitter/Gauge) to the process. It includes intermediate isolation valves and some accessories.
Many industries still use this method of installation for some of their processes.
For example, in a refinery, a process line should have Double Block and Bleed operation. It should also have a Pressure Transmitter, as depicted in the below picture.
The Pressure Transmitter is connected to an instrument manifold. An isolation valve follows it in series with another isolation valve to provide Block X Block operation. There's another isolation valve between the other two that offers Bleed operation.
But, this "conventional installation" is not perfect for the best process performance. It has many drawbacks, which are overcome by "close-coupled installation."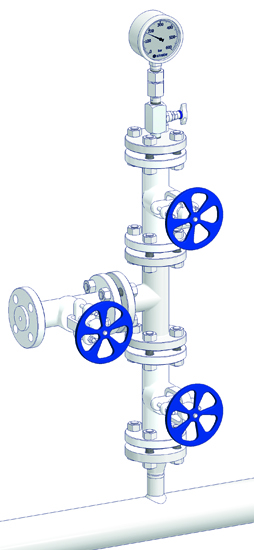 Close-coupled installation
In quite simple terms, close-coupled installation is an instrument mounting product. It brings the field instrument (Transmitter/Gauge) closer to the process. That is, it enables a direct and minimal link between them.
The design of a close-coupled installation must suit the application. It should also be suitable for the process.
AS-Schneider has products that do Double Block and Bleed operation in a single valve. They serve as a close-coupled installation.
For this post, I'd like to concentrate on monoflanges.
Monoflanges are designed to replace standard multiple-valve installations in pressure measuring systems. They also let you mount the instrument (Pressure Transmitter/Gauge) to the process. Thus, they are also known as the "Process to Instrument valve."
There are two types of Monoflanges:
Process Monoflanges
Instrument Monoflanges
Process Monoflanges and Instrument Monoflanges are connectors. They connect the process to pressure gauges or pressure transmitters. Monoflanges are used in clean service. They are the most compact and cost-effective way to perform a pressure measurement.
It's easy to configure monoflanges for high temperatures applications (up to 550°C). Due to their design, they can also resist high overpressures. The valves are fit for use in critical applications. For example, you can use them in steam generation systems and refineries. You can also use them for "fugitive emissions" in chemical applications. Another use is for applications with critical gases. The inner portions of the monoflange allow a smooth and exact operation. It works at very high pressures and prevents leaks or seizures of the valve.
You can mount a monoflange manifold to a flanged process connection. Close coupling combines a pressure manifold with a fire safe process valve: the perfect combination of a DBB root valve, process tubing, fittings, and manifold with bracket into one unit. This process gives up to 40 percent savings. Users save on installation costs, material, weight, and space.
Monoflanges reduce leak paths, which translates to increased safety and improved performance. They also weigh less than conventional valves. Thus, they reduce the stresses of loading and vibration. This type of valve also decreases the height of the installation. Therefore, it reduces the risk of damage at times of vibration. Their reliability ensures accurate and consistent measurements. The monoflange also reduces installation and ownership costs, and there's less need for maintenance than with conventional valves. As a result, it also reduces downtime.
Engineers use monoflanges as an alternative to multi-valve systems. Manufacturers design them to provide a compact installation for transmitter instruments or gauges. They can be mounted onto a horizontal or vertical flanged connection. Isolation, venting, and instrument mounting is possible in a single unit. All you need is a monoflange.
Process monoflanges will soon supplant the more familiar primary isolation valve. We close-couple them to the process piping flange. This configuration simplifies the act of connecting the process monoflange to instruments. The main isolation valve should be of process design; so, it has an OS&Y bolted bonnet. The secondary and bleed valves remain screwed.
In simple terms, it is a valve that is connected to an instrument at one end and the process at another. For that reason, they are called Process Monoflanges.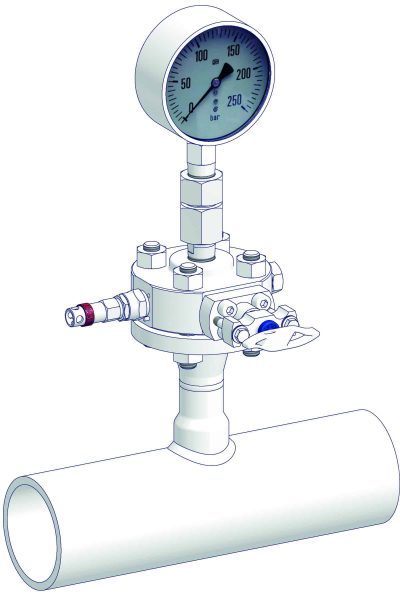 Instrument monoflanges are close coupled to a pre-installed primary isolation valve to provide a compact Instrument Double Block & Bleed Valve or are used when primary isolation valves with an OS&Y Bolted Bonnet are not required. The needle valves of the Instrument Monoflanges are provided with a screwed bonnet.
In simple, it is a valve which is connected at one end to the primary isolation valve, which is further interfaced to the process and to the instrument at another end, therefore called as Instrument Monoflanges.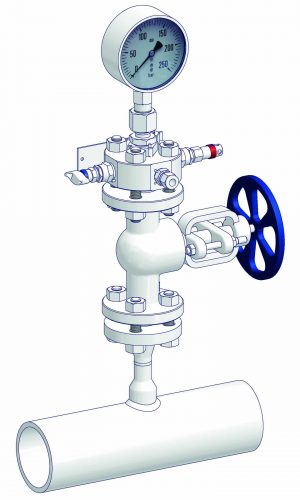 This advanced valve is a "close-coupled installation." It has many benefits over the "conventional installation." The main benefits are Time, Cost, and Performance. The whole range of benefits, such as:
Best and reliable performance of process measurement
Reduced weight, approx. 50% lighter
Compact assembly, less stress on the process pipeline and allied piping work.
Easy and faster installation and commissioning time
Significant Space Savings, approx. 60% smaller
Reduced installation and commissioning cost
Reduced leak points, so reduced risk of fugitive emissions
Reduced cost of ownership
Minimizes the maintenance and downtime
To end, I will use a quote from one of our clients, who works for a global EPC and therefore understands the process and application very well and in detail as per the engineer's demand.