DBB system in instrument piping – a cost effective safety solution
I remember very well when we started the development of our Double Block & Bleed Valve Series. We called it "VariAS-Blocks". Production started 20 years ago, and we have made many improvements since there.
We based the design on the standard SHELL MESC SPE 77/165 (which the MESC SPE 77/170 superseded) and EEMUA 182.
As the title of these specifications implies, we mount these valves to the pipework. Thus, at least the first block valve coming from the process side must have robust process design.
Process valves and instrument valves
Let`s have a look at the difference between the requirements for process valves and instrument valves: It is sometimes a challenge to understand the different requirements for instrumentation valves. The same goes for process valves. The potential hazard of pressure equipment depends on different parameters. These parameters include the function, the medium, and the pressure-volume-product.
You can imagine that a small instrumentation valve is not as dangerous as a big process valve. Same for the pressure: A valve for 10 bar pressure is not as dangerous as a valve for 700 bars.
Hence the definition put forth by the European Pressure Equipment Directive. They define the requirements for valves up to DN25 as "sound engineering practice."
Instrument DBB ball valve
Cost-saving DBB ball valve for instrument piping
Based on the first-rate experience of our VariAS-Blocks, we developed a DBB ball valve for instrument piping. The main goal was to have a cost-effective solution due to lower requirements for instrumentation. There's also no need for an integral robust primary isolation valve. The result was our BA Series DBB ball valve. This valve has a very compact design. It's lighter and takes up less space. It also boasts high-quality components for reliability and safety.
Advantage of a Instrument DBB ball valve
Double Block & Bleed valve systems are conventional installations that most End Users in the Oil and Gas industry use. Conventional installations of DBB valve systems have become a regular practice. You can even find them on offshore platforms. As a conventional installation, you connect the DBB system using 3 single valves and a bleed valve between two isolation valves.
It's better to use the BA Series instead, as  one single valve incorporates the 3 valves in one body.
The advantage is obvious:
If I look at these advantages, I`m sure, that we have satisfied the unique needs of our customers. We have focused on reduced costs without affecting safety.
By the way, our Instrument DBB ball valves are suitable up to 6,000 PSI (414 bar) as standard. They are also available in a high-pressure version up to 10,000 PSI (689 bar). All our valves have an anti-blowout stem.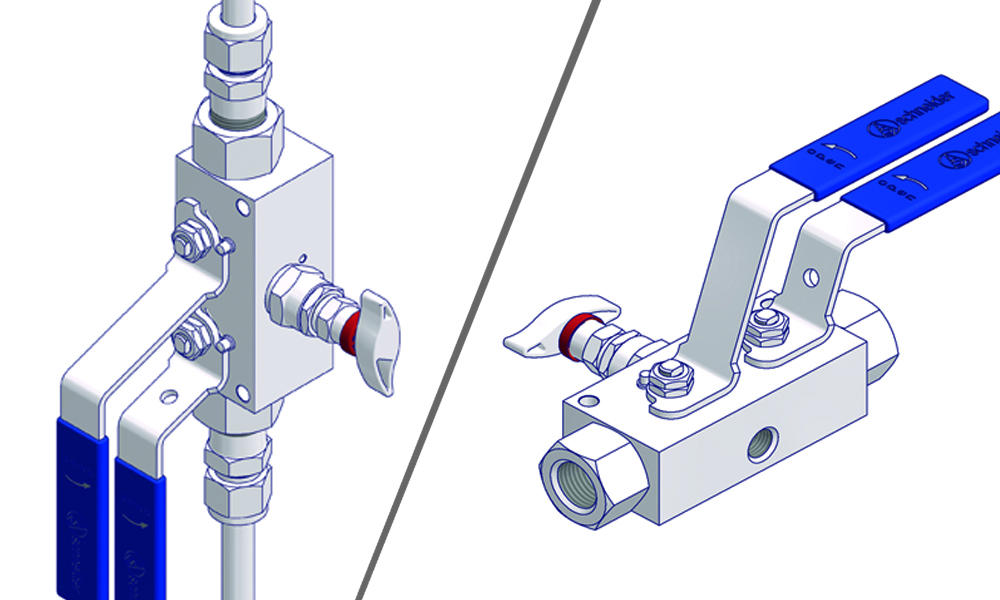 Terminology – Ball valves and DBB valves
A ball valve controls the flow of a gas or liquid. It uses a rotary ball with a bore to do this. This type of valve may have two, three, or even four ports. Most manufacturers use three designs for the valve body: one-, two-, or three-piece. The "floating-ball" the most common design. This design suspends the ball in the media and holds it in place with two seating rings. The hole through the ball sometimes has different designs, such as full, reduced, or V-shaped bore.
The term "double block and bleed (DBB)" causes much confusion when it's used to define valve functionality. Why do users specify a double block and bleed? Because they want a compact system that delivers more consistent isolation. Such isolation is necessary for dangerous areas. It gives more protection than a standard single valve would.
What does Double Block and Bleed mean?
API 6D describes a double block and bleed as a single valve with two seating surfaces. In the closed position, it provides a seal against pressure from both ends. This type of valve must have a means of venting (or bleeding) the cavity between the seating surfaces. The valve can have this feature in one or both directions.
But there are also other definitions of Double Block and Bleed. AS-Schneider is using the definition of OSHA which means 3 independently operating valves (2 Isolation/Block Valves and 1 Bleed Valve) are incorporated in a single valve body and both isolation/block valves are sealing in one direction.
What are Double Block and Bleed Valves used for?
AS-Schneider Valves are designed acc. to OSHA's definition and OSHA defines the Isolation Principles as follows:
"Isolation means the process by which a permit space is removed from service and completely protected against the release of energy and material into the space by such means as: blanking or blinding; misaligning or removing sections of lines, pipes, or ducts; a double block and bleed system; lockout or tagout of all sources of energy; or blocking or disconnecting all mechanical linkages."